American Style Window Create a Classical Appearance and Comfortable Feeling
Crank Open Casement Windows are American style window with a foldable handle and Rich Natural wood interiors in pine, oak, leak or prefinished by various colors, the window frame is protected by extruded aluminum profile for weather resistant. The window is hinged on the left or right and crank open outward and allowing for full top to bottom ventilation. It is designed with a lot of glass area with a narrower frame to provide an unobstructed view and often used in combinations with picture window to maximize the view. The hinged design creates an airtight seal when the sash closes against the window frame with proper weatherstrips and prevents air leaks. Simulated divided lites are a very popular design to create a classical appearance and comfortable feeling. The fold down handles provide a streamlined look and fold away to save space. The mesh frame uses a pin-less operation system to make screen removal and replacement easy. Crank Open Casement Windows are the most popular replacement choices for American homeowners due to the good energy efficiency, excellent ventilation capabilities, easy cleaning and no falling risks. All these make Crank Open Casement windows meet or exceed industry standards for performance and energy efficiency. Based on our previous test, the U factor is 0.27 for our recommend configuration of double glazing. Sure, We are able to supply customized options to suit your own energy efficiency by updating some options like triple glazing, replace spacer into warm edge spacer and advanced Low-E glass. In short, Doorwin is able to supply a wide range of windows in different sizes, shapes and style. Here I will show you some details in bellowing.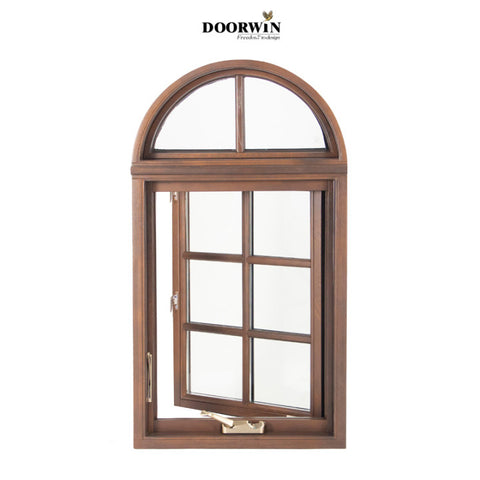 Wood Material of Crank Open Casement Window
It's really an open option for wood material like pine, oak or cherry, Mostly we use American Red Oak which is hard wood with air-dry density 0.7g/cm3 and cost-effective price compares leak, cherry or black walnut. All wood materials are treated to get better durability and strength to against the effects of moisture, decay, stain as well as termite damage. Here I'd like to mention the wood finishing, environment-friendly water based painting is our standard option and we use world famous brands like Germany Origin made Zobel and Rhenocoll. So our wood windows is prefinished in your choice with wide range of beautiful stain colors options like white, bright white or linen white.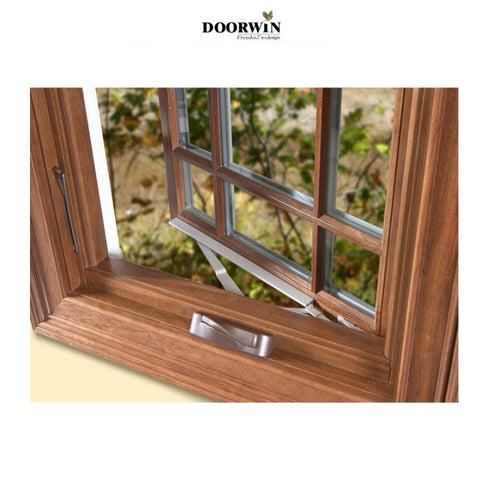 Aluminum Profile of Crank Open Casement Window
Doorwin aluminum profile is virtually maintenance free, aluminum clad wood windows have an extruded aluminum exterior, which can be Powder coated with industrial strength paint for superior resistance to fading and flaking. Aluminum is polyester powder coated with 250 classic colors options. Some colors have metallic or pearl which may incur extra cost. Please see here, there is no gap between corner joints and it makes the window stronger and good looking, it is DOORWIN'S Seamless Welding Joint Technique. All these details make your house looks elegant.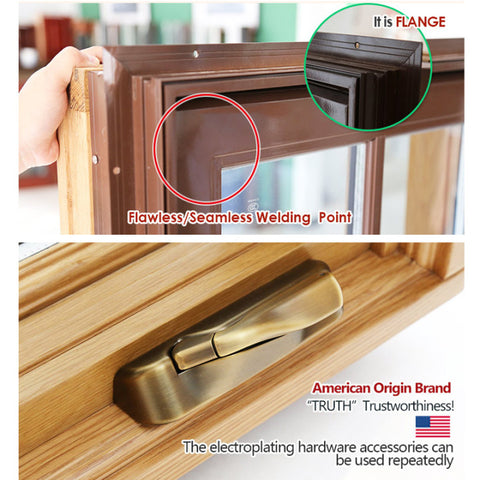 Glass of Crank Open Casement Window
Doorwin windows are made with a variety of high-performance glass options to meet your energy performance and budgetary needs. The glass type affects heat flow, light transmittance as well as the noise transfer rate. Experts estimate that 70% energy loss occurs in windows and doors and 90% window heat loss occurs through the glass. So windows play a major role in the energy efficiency. For all our windows and doors exported to North America, Dual Panes must be Tempered Glass for better window performance. To suit U.S. climates, I recommend double glazed window with Low-e coating Glass filled with Argon gas. The unique Low-E technology delivers balanced insulation, Upgraded low-E glass filled with argon gas delivers maximum insulation, solar heat gain control, fading protection and energy saving. It helps you to reduce heating bills and keep your home warm in winter. But More isn't always better, and we can customized glass to create your ideal energy performance according to your project location and other elements. Our group guarantee you to pass the inspection and get approval.